FULL CIRCLE Adoption-Triad Support Group of North Jersey
Our Mission Statement
Our mission is to provide emotional support to all adult members of the post-adoption triad in a caring environment, as well as to provide public awareness and education of adoption-related issues. We feel that adoption is a journey that evolves as we travel through our lives and we discover the many facets of who we are. Our hope is to support each other in this journey.

FULL CIRCLE-NJ is an adoption-triad based support group that offers a friendly and confidential environment within the adoption community where members can share their feelings and experiences with others who "get it". It is a place where an adult adoptee considering searching for their natural parents or siblings can come for support and, if needed, search advice. FULL CIRCLE-NJ offers those already in reunion a place to share the emotions that come along with it. Our meetings are a place where a natural (birth) parent who would like to talk with others who have had similar experiences can feel comfortable. We also offer adoptive parents an opportunity to understand more about the feelings their adopted children may be having, as well as find ways to provide emotional support for their children.

Originally started over 30 years ago, the group has evolved over the past few years, changing it's name and meeting location several times. Formerly known as "Post-Adoption Support Group of North Jersey", and "Adoption Crossroads of New Jersey", we have chosen a new (and hopefully permanent!!!) name for the group, which signifies the journey taken in the lives of almost everyone touched by adoption. We have recently made arrangements to hold our meetings in the meeting room at Panera Bread on Rte. 4 West(in the KOHL'S shopping center), in Paramus, NJ.

Our meetings are a place where all members of the triad can speak openly and honestly with others who may be experiencing the same feelings. Some members of the group may not yet have shared with their family members the fact that they had placed a child for adoption, while others may not have shared that they are considering searching for their birth family. This group is a "safe" place to explore those thoughts and feelings, knowing all discussions are confidential.

We also have an ever growing "lending library" of adoption-related books that members are encouraged to borrow. For those in need of additional support or encouragement in between meetings, there are always members willing to "jump in" and assist.
Announcements
Important Information Regarding 2016 Meeting Dates, Donation Policy, and Panera Food Policy!!!
Meetings for 2016 will be held on the 3rd Thursday evening of each month from 7:00 pm - 9:30 pm in the community room at Panera Bread on 165 NJ Rte. 4 West (in the KOHL's shopping center) in Paramus, New Jersey. Note that when the private meeting room is unavailable, we will hold meetings in the PUBLIC area and place a "Full Circle" sign on the table. Please review the meeting dates below as some may deviate from our normal schedule, and mark your calendar.
Please Note: We are a not-for-profit group, and do not charge to join or attend our meetings, however, due to policy changes at Panera Bread, we are obligated to purchase a certain amount of food/beverages in order to use their Community Room. We encourage you to purchase and enjoy your dinner prior to, or during the meeting.
Additionally, due to the increased cost of hosting this website and our sister meetup site, we are requesting a small donation of $2 or $3 per person for each meeting to cover operational costs.
We suggest you check this website regularly, as we will post notices such as upcoming guest speakers, meeting cancellations due to inclement weather, etc. Reminder e-mails are sent out before each meeting, and you may request to be added to the meeting reminder list by contacting Cindi.
For more information, contact Cindi Addesso at cindilouwho@mindspring.com, or you may reach Sharon Mashel at sharon.mashel@gmail.com
Visit our sister site at meetup.com, where you will find a convenient way to RSVP to meetings:
http://www.meetup.com/Full-Circle-Triad-Post-Adoption-Support-Group
Meeting Schedule For 2016
Meetings for 2016 will be held on the 3rd Thursday evening of each month. More information to follow.
February 18, 2016 **** PLEASE NOTE: OUR FEBRUARY MEETING IS CANCELED***
********************************************
FULL CIRCLE WILL BE TAKING A HIATUS FOR A FEW MONTHS BEGINNING IN MARCH 2016. IF YOU NEED SUPPORT IN THE MEANTIME, WE ARE STILL AVAILABLE BY EMAIL AND PHONE, SO FEEL FREE TO CONTINUE REACHING OUT TO US. WE LOVE HEARING FROM OUR COMMUNITY!
********************************************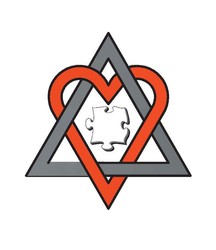 Our Logo
The Triangle in our Logo represents each member of the Adoption Triad: Adoptee, Birth Parents, and Adoptive Parents.
The Heart represents the shared bond that links them all.
The Puzzle Piece represents the "Missing Part of the Puzzle" that exists in many adoptions.
About our co-facilitators
Both Cindi Addesso and Sharon Mashel are reunited adoptees who want all first parents, adoptive parents, and adoptees to feel welcome here.






Our Guestbook
Feel free to sign our guestbook to let us know you have visited our website. Whatever information you submit will be viewable by all who visit the guestbook. You may sign the guestbook with just a first name or your initials, and you may simply enter the county you live in as your location if you wish to remain anonymous.
We ask all of you that visit our guestbook to please not contact others who have provided their e-mail address, as we consider that an invasion of privacy.